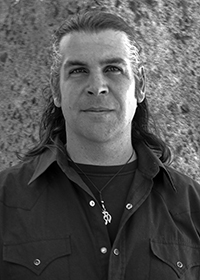 Soren Sorensen aka
SPIRITUAL ATHEIST
"As long as the critical majority (innocently) mistakes 'God', the mythical/symbolic personification/representation of the universe itself, for something that supposedly exists outside of the universe (the external creator and ruler of the universe); I have no ethical choice but to declare myself to be a spiritual atheist (and equally a non-literal theist) who is aware of the intrinsic connectedness, wholeness, and oneness of the universe, which is indeed mystical."

-Soren Sorensen
BIO
Soren Sorensen is the man behind SPIRITUAL ATHEIST.
If you listen carefully, you will hear the influence of many of Soren's favorite "post punk" bands: Bauhaus, The Cure, Soft Cell, Depeche Mode, Current 93, The Mission UK, Dead Can Dance, etc.; but make no mistake, Soren contributes a unique presence, purpose, and sound to this beloved immortal genre.
Soren is reclusive, complicated, playful, and kind. He sees himself as an iconoclast and co-creator of an ever-better world.
Soren believes that, to varying degrees, many people on Earth are brainwashed, hypnotized, and deeply confused. He believes that, as a result, our world is fatally threatened by people and organizations that act in stupid, cruel, and destructive ways. He also believes that global enlightenment is part of the solution.
Soren's provocative vocal-driven music reveals all of these qualities, beliefs, and values. This is not background music! Soren's powerful voice and captivating words will compel you to stop what you are doing and listen to what he is saying.
SPIRITUAL ATHEIST IS "POST PUNK WITH A PURPOSE";
and it's nothing less than GLOBAL ENLIGHTENMENT!
SPIRITUAL ATHEIST's newest record, Love & Dreams (2019), seems to be an encoded invitation for similarly minded old souls everywhere to unite and take over. Perhaps they will. Muhaha!
You can find Soren's previous (extremely old)
web site here: www.ForbiddenSongs.com
For more information about Soren,
visit: www.SorenSorensen.com